Employee Recognition
Double your retention with meaningful recognition.
Don't take high performance for granted.
Works Where You Work
Nurture people to nurture performance.
Enable employees to show their team's greatness to the rest of the company via Slack, email, or Reflektive. Promote a culture of engagement where no win is too small to celebrate.
"One of the key drivers to building a culture of engagement is helping employees feel valued through recognition. Reflektive is a must-have tool that enables us to practice humanity at work."
Jason Medley
VP of People, Imgur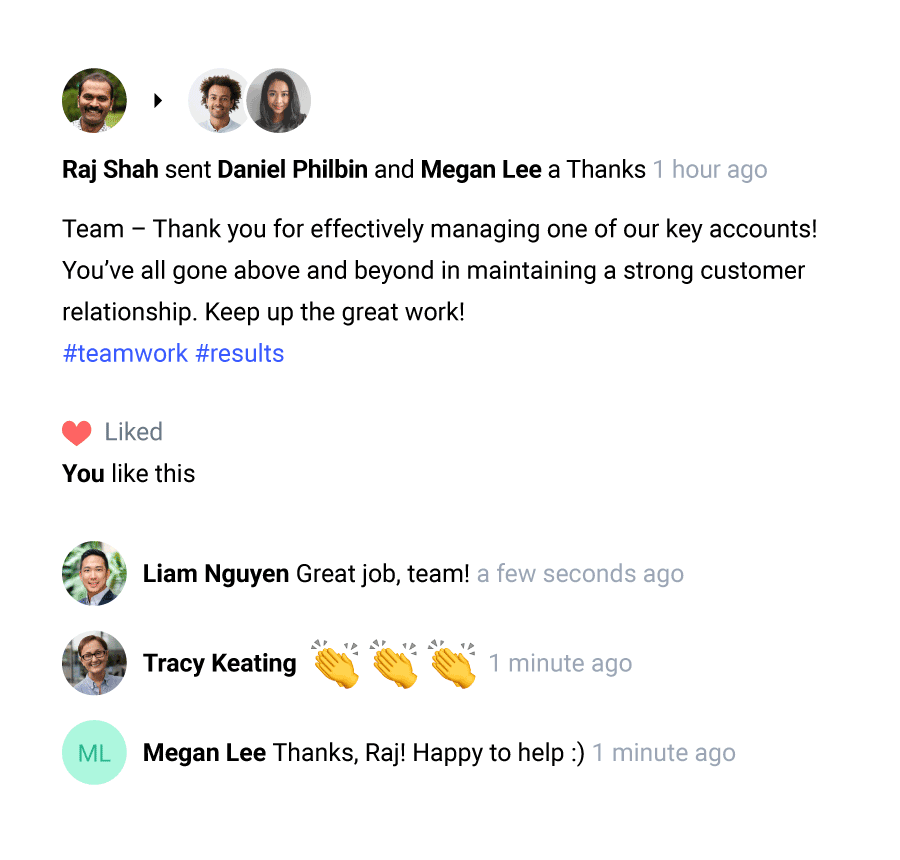 Recognition Wall
Your values, 'round the clock.
Tie recognition to corporate values with custom hashtags and inspire others to live by them. View, comment, edit, and attach photos of recognition on the wall for everyone to see.
"Our corporate core values are embedded into the recognition wall, and this really brings them to life on an ongoing basis with tangible examples."
Chris Phillips
Senior Manager, Privia Health
Company-wide Alignment
Plug recognition directly into performance conversations.
Mitigate recency bias and improve review accuracy by viewing historical feedback in performance review and check-in forms.
"Managers were coming up to us saying check-ins were so easy, fluid, and painless."
Priscila Mattingly
Chief People Officer, Cortland
Discover how leading companies leverage Reflektive's Recognition solution to drive employee engagement and retention.
These customers built high-performance teams.
See how they drove results with the Reflektive platform.
Celebrate great performers and inspire others to follow.