Build a productive culture with performance, engagement, and analytics solutions.
Performance Solution
Performance data provides the full picture.
Engagement
Drive and measure employee engagement.
Recognition
Recognition is a powerful motivator. Create a culture of recognition by seamlessly capturing and sharing public praise to inspire and connect your workforce.
Prebuilt and Custom Surveys
Measuring employee engagement and sentiment is how you improve the employee experience. Use our intuitive survey builder or our expert templates to launch engagement, onboarding, and exit surveys.
Benchmarks and Sentiment Analysis
View internal and external benchmarks to better assess employee engagement at your company. Save hours of effort with Natural Language Processing to understand survey comments.
Suggested Action Plans
Follow up on low engagement with best practices from Reflektive.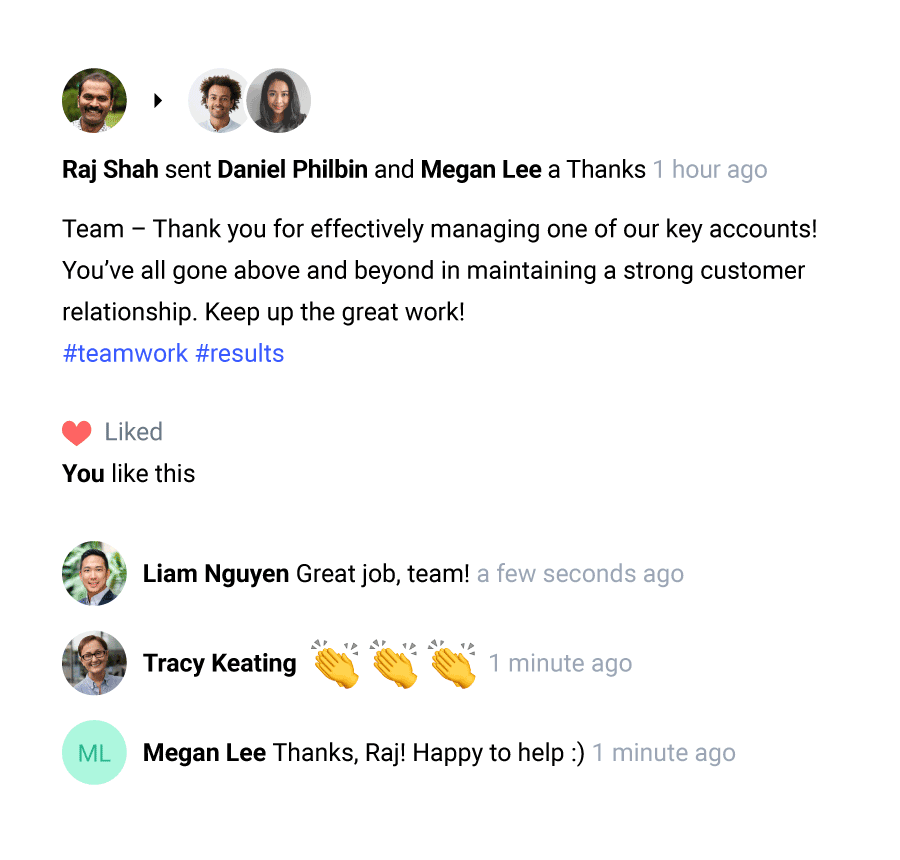 People Analytics
Accurate analysis leads to effective action.
Quick Insights
Track progress on performance reviews, company goals, and more. View pre-built dashboards and reports to understand your people data — fast.
Advanced Filtering
View data by department, location, manager, gender, and other demographics to pinpoint what's working and what needs extra attention.
Easy Customization
Modify pre-built dashboards and reports with an intuitive drag-and-drop interface. Uncover strategic performance insights with our easy-to-use Report Builder.
Integrations
Integrate with your most important tools.
Email and Collaboration
Drive 3x more feedback by meeting employees where they work. With our integrations, your employees can provide feedback, follow up on action items, and view goals — all in their favorite apps.
HRIS
Use Reflektive's HRIS integrations to spend more time on strategic initiatives and less time on data entry. Get up-to-date employee information for seamless performance management.
Single Sign-on
Leverage single sign-on (SSO) integrations so your people don't have to remember a million passwords — and can get back to work faster.
Let our team help power your performance.
Our team of experts can help you design, implement, and support ongoing adoption with your performance management program.
Program Design
We show you what a successful performance management program looks like. Hint: It's totally unique to you and your needs. There's no one-size-fits-all program — and we make sure yours is successful.
Implementation
Our implementation team guides you through proven approaches to roll out your Reflektive program, providing you with what to expect from us, what we need from you, and aligning stakeholders on both sides.
Ongoing Adoption
Our customer success model is based on data-driven decisions. We measure what you're tracking, continuously improving on your desired outcomes through adoption campaigns, key initiative support, and training sessions.
We're here to help.
These customers built high-performance teams.
See how they drove results with the Reflektive platform.
"When I saw Reflektive, I said, 'This is it, we don't need to look at any others.' Reflektive meets our needs from a user interface and functionality perspective. It's hard to find tools out there that do both of those things well."
Sara Davies
Associate Director of People Operations, Privia Health
Get started with our high-performance products.